Our approach
We improve access to safe water, hygiene and toilets in the world's poorest communities.
Our Approach: Delivering Services
We work in partnership with local organizations to help the poorest and most marginalized communities to set up practical and sustainable water, sanitation and hygiene projects that meet their real needs.
It's not enough just to ensure communities have taps and toilets. For maximum health benefits it's also vital that communities improve hygiene.
We promote good hygiene with public awareness campaigns, household discussions, demonstrations, radio programs, plays and puppet shows, picture books, games, posters, and videos that encourage people to:
wash their hands, faces, bodies, and clothes
safely dispose of feces, refuse, and wastewater
prepare and store food properly
protect their water supply and store water safely
We work with local partners to help communities access safe water and sanitation. And we use our experience and research to influence decision-makers to do more to provide these vital services.
To make change happen we influence those people with the power to act. We bring our supporters and local communities together to encourage decision-makers to make the necessary investment in water and sanitation.
WaterAid regularly produces materials about policy and practice in water, sanitation and hygiene. A comprehensive listing of all publications is available on our WaterAid global website at the link below.
Our local partners
We partner with a variety of local organizations including:
Local non-governmental organizations (NGOs)
Local and national government departments
Private utility companies
We invest in our local partners to enable them to deliver their water, sanitation and hygiene programs. We typically provide financial support, training and technical advice as well as help with planning, budgeting and institutional development.
As partners grow stronger, they become less reliant on WaterAid's technical and financial support and can seek funds from other sources. When this happens, we often start working with newer or less well-established partners and so the cycle of training and development continues.
Some of the technologies we use
Water
We use technologies that are low-cost, appropriate to the local area, and can be easily maintained by the communities who use them
The borehole drilling rig
Used in areas where there is very hard rock or water needs to be collected from a greater depth.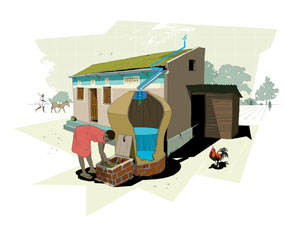 The rainwater harvesting jar
One jar can supply several households with up to 300 gallons of filtered rainwater collected from a clean roof and gutter.

The gravity flow system
Pipes are laid to carry water downhill from mountain springs to storage tanks that feed water points in the heart of the community.

The rope pump
This basic water pump is simple for communities to maintain as it can be constructed from recycled parts like bicycle wheels, rope and scrap metal.
Sanitation
We use the most appropriate, affordable and sustainable solution to the local sanitation situation.

The Gulper
In dense urban areas where there is no room to construct new toilets when latrine pits are full, waste can be removed using a small hand pump called the Gulper.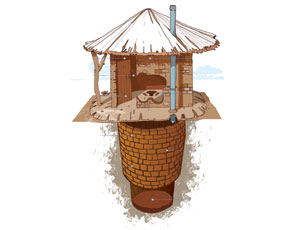 The ventilated improved pit (VIP) latrine
VIP latrines are dry pit latrines fitted with concrete squat slabs, a hut known as the superstructure, and a vent pipe to take smells and insects away.

The composting latrine
Composting or ecological sanitation (EcoSan) latrines benefit local agriculture by creating a safe, renewable source of fertile compost from human waste. They often have two pits: while one pit is in use the other full pit is sealed while its contents decompose.
Composting toilet
Buddhi Sipai from Nepal explains how his composting toilet provides free compost he can use to grow fruit and vegetables with.
Rainwater harvesting
Toujani from Mali explains how his community collects rainwater during the rainy season and stores it in a tank ready for use during the dry season, which saves them having to travel to the next village in search of water.
Rope pump
Martin Ouedraogo, affectionately known as "the rope pump guy" by locals in his community in Burkina Faso, explains how rope pumps work and how they are helping to reduce water-related diseases.